Born in
Connecticut
and raised in Hawaii, Megan Abubo showcases a style honed on powerful reef-breaks and deepwater ocean waves.
Growing up in Hawaii, Megan quickly became one of the "beach boys" and worked her way to a spot on the
World Championship Tour
ranks in 1998. She has been on the
WCT
ever since and in 2000 she was runner up for the world title. She has had many victories both in and out of the water. In October 2004 Megan won the
WCT
Rip Curl
Malibu Pro and shot from 14th to 9th in the ratings. In 2002, she won the
WCT
Figueira Pro in Portugal, and in 2001 she won the
WCT
Roxy Pro in Fiji. Throughout her career she has had 5 other
WCT
victories.
Megan joined a handful of the best women surfers in the world on the first all-female boat trip with Transworld Surf to Indonesia in 2004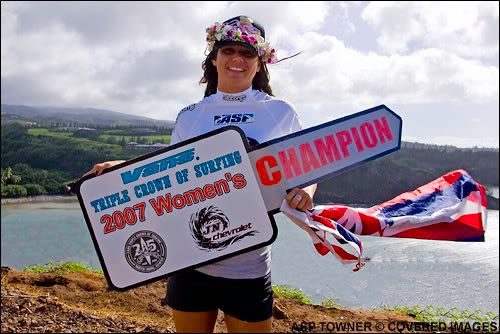 Southern California high school seniors often experience luxuries like off campus lunches, photography classes, senior trips, and bonus yearbook pages. For Courtney Conlogue, Class of 2010, her last year has been a bit different. While her fellow classmates planned for their futures –
Courtney
took on Surfing's World Qualifying Tour, a string of contests held around the globe that decides which surfers will be apart of surfing's elite and travel on the Women's ASP World Championship Tour. It's all she wanted, it's been a goal of hers since she was ten.
Her first year trying and she's done it. She qualified. She'll begin her rookie year on the Tour in 2011.
"To finally get here, it's a relief. Now it's that next step," says Courtney, "I'm on the World Championship Tour. Now I have to put all that effort that I've worked for and actually showcase it all."
Read More....
Talia Gangini
was born and raised in the
Hawaiian Islands
. She soaked up all that is beautiful about Hawaii: surf, arts and long walks on the beach hunting Puka shells. Life in Maui has groomed her athletic fire and capabilities. When her dad took her out on a surfboard for the first time at 15 months, it must have triggered something deep inside of her. In 2007,
Talia
became the youngest women to ever paddle the 32 mile Molokai to Oahu paddle board race on a team.
This year she
is planning to do it Solo. She is also planning to compete in the OC-1 Race covering the same distance. Her long term goal is to carry on the Polynesian tradition of paddling and becoming the best water women to beat.
Read More....
Doheny Days Music Festival returns to Doheny State Beach on
Sep. 10th & 11th
with Weezer, Ben Harper, CAKE, Ziggy Marley, Neon Trees + more!
After seven years adrift, the DOHENY DAYS Music Festival returns to the whitewashed sandy beaches of South Orange County on September 10 & 11, 2011. During its initial eight-year run, Doheny Days received acclaim for the unique combination of its breathtaking venue, eclectic music lineup, and eco-friendly partners.
Headlining the 2011 festival on Saturday, September 10, will be multiple-Grammy Award winning guitarist and singer, BEN HARPER, who is known for his fusion of rock, reggae and roots music. This will be Harper's exclusive Southern California concert in support of his newest release,
Give Till It's Gone
. Sacramento based, CAKE will headline on Sunday, September 11. Cake produced their latest album
Showroom of Compassion
(released in January 2011) and recorded it in their own solar-powered studio in Sacramento. The album was preceded by its first single, "Sick of You", hitting number 4 on the Billboard Alternative Songs chart. The album itself opened at number 1 on the Billboard Top 200 Albums.
Talia Gangini took 8th place last week in Rainbow Sandal's annual Gerry Lopez 'Battle of the Paddle' held at Doheny Beach, CA. The win placed her in the top 10 in the field of womens Stand Up Paddleboard racing