The U.S. Open's Youngest winner Malia Manuel prepares to defend her title
By Travis Ferré
Last year, underneath the concrete pilings of Huntington Beach's infamous pier,
Malia Manuel
made her mainstream debut with a win at the U.S. Open Surfing. Joining her in the final was fellow Hawaiian Coco Ho. The two are part of a brigade of young girls who are willing and very able to bring
women
's surfing to a place it's never been: in front of a crowd — and just in time too. With only seven events and a lack of
sponsor
support this year, the ASP Women's World Tour is in the middle of a break that lasts from April 14th until September 30th. We caught up with Malia the day she returned from a trip to Indo and interrupted her jet lag nap to make her talk to us.
Read More....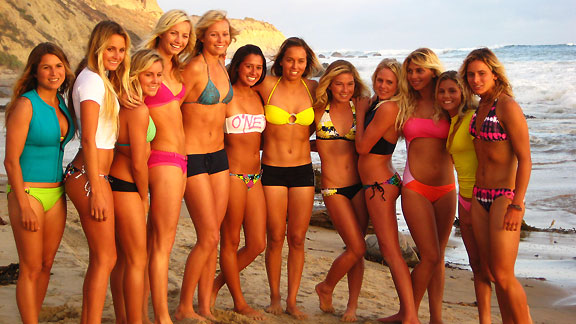 Surfing's lovely next generation: Sofia Mulanovich, Alana Blanchard, Leila Hurst, Hailey Partridge, Sierra Partridge, Malia Manuel, Sally Fitzgibbons, Coco Ho, Laura Enever, Sage Erickson, Quincy Davis, Courtney Conlogue.